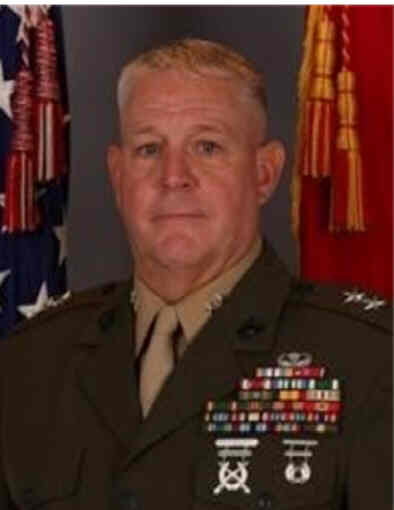 Major General Gurganus is currently serving as the Deputy Commanding General, Marine Corps Combat Development Command.

Major General "Mark" Gurganus graduated from the University of North Carolina and was commissioned in May 1976. After The Basic School, he served as a Rifle Platoon Commander and Company Executive Officer in 2d Battalion, 1st Marines (1977-1979).

Other operational assignments included assistant Operations Officer, Rifle Company Commander, and Weapons Company Commander with 3d Battalion, 6th Marines (1984-1987); Commanding Officer, 3d Battalion, 6th Marines and G-7, 2d Marine Division (1995-1997); G-3 Current Operations Officer, III Marine Expeditionary Force (2001-2002); Deputy Commander, 4th Marine Expeditionary Brigade (2002-2003); Commanding Officer, 8th Marine Regiment (2003-2005); Commanding Officer, Regimental Combat Team 8 (March 2005-August 2005) in Al Anbar Province, Iraq; Operations Officer, 2d Marine Division; Assistant Division Commander, 2d Marine Division (2006-2008); Assistant Division Commander and Ground Combat Element Commander, II Marine Expeditionary Force (Forward) in Al Anbar, Iraq (February 2007-February 2008); U/C/J-5 of United Nations Command/Combined Forces Command/United States Forces Korea (2009-2011); and Commanding General, I Marine Expeditionary Force (Forward) and Commander, Regional Command (Southwest) (March 2012-February 2013).

Supporting Establishment duties included Executive Officer and Commanding Officer, Marine Detachment, USS America (CV-66)(1979-1981); Aide de Camp to CG, MCB, Camp Lejeune (1981-1982); Company Commander at the Infantry Training School (1982-1983); Depot Training Officer, OIC of the Field Training Unit, and Operations Officer of Support Battalion at Marine Corps Recruit Depot, Parris Island, S.C. (1987-1990); OCS Company Commander (1990); and MAGTF Staff Training Program Instructor (1992-1995). Joint assignments include Chief, Deployable Training Team, Joint Warfighting Center, U.S. Joint Forces command (1998-2001).

Professional Military Education assignments include Infantry Officers Advanced Course, Fort Benning, GA; Marine Corps Command and Staff College and School of Advanced Warfighting, Quantico, VA; and National War College, Washington, D.C.